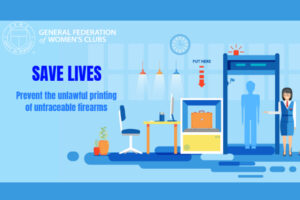 DID YOU ACT ON WEDNESDAY, OCTOBER 23?
Even if you missed it, it's not too late to join GFWC's Day of Action! Protect American families from untraceable firearms by encouraging your members of Congress to co-sponsor/support the 3D Printed Gun Safety Act.
GFWC President Mary Ellen Brock has set a goal that 1,000 calls or emails will be made to United States Representatives on October 23, 2019, urging passage of the 3D Printed Gun Safety Act. Encourage your friends, family, and community members to contact their Senators and Representatives, signing your correspondence in red and mentioning GFWC. Let's get this legislation passed!
Recent technological advancements have allowed for the printing of firearms and firearm parts, by unlicensed individuals in possession of relatively inexpensive 3D printers. Because 3D printing allows individuals to create items made from plastic, these firearms cannot be detected by metal detectors at security checkpoints, increasing the risk that a firearm will be used to perpetrate violence on airplanes or areas where people congregate. The availability of online schematics for the 3D printing of firearms and parts increases the risk that dangerous people, including domestic abusers, and other people prohibited from possessing firearms under Federal law, will obtain a firearm through 3D printing.
This law would make it illegal to publish digital instructions or code over the internet that would automatically program a 3D printer to produce a firearm. Contact your Senators and Representative today urging them to support!
HOW DO I HELP?
Go to GFWC's Legislative Action Center, fill in your information. Click on "Remember Me" and "Email Opt-In", then select "Support the 3D Printed Gun Safety Act". It will:
tell you who to call or email and their contact information, giving you one representative at a time
give you talking points
and a place to make comments on your call/email.
When you're done, indicate you've finished and your participation in the Day of Action will be recorded!
Be sure to note that you're a resident of New Jersey and a member of the General Federation of Women's Clubs. Your friends and family can say they are a resident of New Jersey and a supporter of the General Federation of Women's Clubs.
THANK YOU FOR TAKING ACTION – WHAT WE DO MATTERS.
In Federation Friendship,
Mary E. Wolfe, NJSFWC President