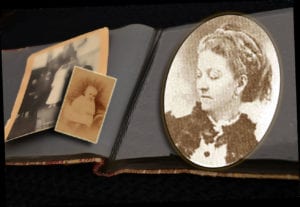 The GFWC Jennie Award is in honor of the founder of the General Federation of Women's Clubs, Jane Cunningham Croly, known fondly as "Jennie June." The award spotlights one clubwoman from the Middle Atlantic Region who has been judged on club, state, region and national levels for her outstanding performance as a volunteer within her club, community and family.
Past New Jersey Nominees
2008 GFWC JENNIE AWARD NOMINEE
The GFWC JENNIE Award Nominee from New Jersey is Carol Ward, a member of the GFWC Woman's League of Mt. Holly in the Garden District. Carol was honored at the Monday Luncheon at the Middle Atlantic Regional Conference in September, 2007. The selection of the JENNIE Award Nominee is based on three areas: Commitment to Club, Community and Family.
Commitment to Club
Carol has coordinated the fundraisers of the club since 1999; held all club board meetings at her home; served for many years on the Annual Banquet Committee and compiled and typed the club yearbook for many years. She has served as 2nd Vice President (2 years), Treasurer (4 years) and International Affairs Chairman (2 years). Carol was selected her club's Member of the Year in 1994.
Commitment to Community
Much of her service is connected to her job as the Infection Prevention Program Manager of Virtua Health System. Carol is active in the South Jersey Association of Professions in Infection Control (APIC) (membership of 185) having served as Treasurer and President. After 9/11, Carol worked with local and state officials to set up smallpox clinics. In 2002, she visited Croatia as an Infection Control Volunteer. Carol toured 11 different hospitals, making recommendations on infection prevention and improvement during the two week visit. Carol is also known as Mrs. Claus, and has smiled for over 250 pictures during the Hospital's Children Christmas Party. Virtua Health acknowledged Carol with a SuperStar Award for Outstanding Leadership in 2006. Carol has also held the position of President of the Sacred Heart Church Altar Rosary Society and sings in the Choir.
Commitment to Family
Carol is a single parent of an adult son and daughter. In 1997, Carol's disabled adult brother came to live with her, and stayed more than 8 years. A few years later, her mother also moved in when her arthritis hampered her mobility. Carol shuffled her job and family responsibilities as well as her volunteer activities while caring for her brother and mother through numerous operations and hospitalizations.
Carol's nomination was selected by the NJSFWC Executive Committee and her nomination information was submitted to the Middle Atlantic Region. The nominees from two states in each region are submitted to GFWC for judging. New Jersey is proud that Carol Ward's nomination has moved onto the National level and the state will be notified in the spring of the judging results.
The NJSFWC of GFWC congratulates Carol Ward on her commitment to club, community and family.