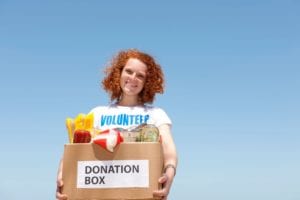 As a member of the New Jersey State Federation of Women's Clubs of GFWC you will have the opportunity to work with women on an international, state and local basis serving the needs of your community. By joining this group, you become a member of the oldest and one of the world's largest women's volunteer organizations, the General Federation of Women's Clubs (GFWC).
Advantages of Membership
Leadership development
Legislative action programs
National and state publications
Fellowship and networking
Personal growth
Group support in accomplishing objectives
What are the benefits of belonging to the Federation?
Access to State and National Program guidelines and resource materials
Access to State and National websites
Access to State and National Headquarters with professional staff
Access to the Women's History and Resource Center in Washington, DC
Participation in all levels of Federation recognition and awards programs
Representation on Capitol Hill and access to GFWC Public Policy Updates and Legislative Alerts
Representation on and membership in many State and National organizations and coalitions
Access to Epsilon Sigma Omicron (ESO) honorary educational society
Availability of special group insurance programs
Access to all levels of Federation educational workshops and training sessions
Access to and support from leadership at all levels of Federation
Participation in meaningful volunteer community service in a variety of areas
Access to leadership training and career enhancement opportunities
Friendship and networking opportunities around the state and country
Prestige of belonging to one of the world's oldest and largest service organizations
Who Can Join? Types of Membership
Membership in the New Jersey State Federation of Women's Clubs of GFWC consists of Women's Club, and Evening Membership Departments. There are over 200 Women's Clubs spread across the state of New Jersey. Each club is autonomous and sets their membership requirements.
Women's Clubs are targeted at women over 18 years of age. Clubs are structured for the wide range of ages and interests among their members. NJSFWC members include teachers, business owners, social workers, elected officials, medical professionals, homemakers, corporate executives, students, and retirees. Approximately, half of the Women's Clubs meet in the evening with the rest of the clubs meeting during the day. A number of the daytime clubs also have groups which meet in the evenings (Evening Membership Departments).
For additional information on membership or projects and programs please contact: membership@njsfwc.org
BECOME A MEMBER TODAY
Contact
NJSFWC Headquarters
55 Labor Center Way
New Brunswick, New Jersey 08901
732-249-5474