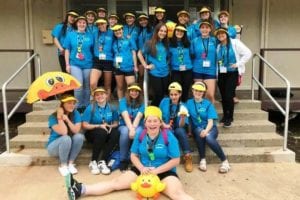 Girls' Career Institute (GCI) offers a "mini college experience" at Douglass Residential College on the campus of Rutgers University. Delegates experience a sample of college life by living in a dorm, eating in a cafeteria, and attending lectures and workshops. They learn about career choices from volunteer professional speakers and how to network with other delegates from all over the state of New Jersey. Many establish lasting friendships with one another.
Delegates are sponsored and the cost is underwritten by a local NJSFWC club. Delegates are selected on the basis of interest, community service and participation in school activities.
Calling all girls completing their JUNIOR year in a New Jersey High School - Applications to be considered for Girls' Career Institute will be available in many high school guidance offices and local NJSFWC affiliated local clubs after November 1.
A wide variety of career related seminars will be given by successful women from New Jersey.
Delegates will meet other high school junior girls from all over New Jersey.
Delegates will live in a college dorm with other GCI participants at Douglass Residential College on the Rutgers New Brunswick campus.
Participants may take part in a variety of service projects, Zumba, swimming, crafts, GCI Chorus, Talent and Fashion Shows, and an Art exhibit.
Forms are available in the MATERIALS section (after November 1).
History of Girls' Career Institute
Formerly known as Girls Citizenship Institute, the program began in 1947 and was first held at Montclair State Teachers college with 100 school girls attending. Since 1948, GCI has been held at Douglass College, now Douglass Residential College Campus of Rutgers University.
New Jersey was the first state to develop this type of training program for girls.