Read Across America Day March 2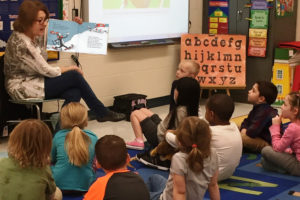 How to Plan for Dr. Seuss' Birthday:
March 2 is Dr. Seuss' birthday and Read Across America Day, an observance which encourages young children to celebrate reading. Whether you partner with a local school, library, or host your own event, we have some ideas for how you can get involved!
Invite children to dress up as their favorite Dr. Seuss book characters.
Challenge children to track their reading for two weeks and award prizes to the top readers.
Host a read-a-thon. Children can bring sleeping bags and pillows to get cozy as they read Dr. Seuss books together.
Although Dr. Seuss' Birthday is March 2, it will be celebrated in schools on Friday, March 1.
Participate in Read Across America Day to inspire children to value literacy and reading. Contact your local schools, Head Start programs, and libraries to see if they are in need of volunteers—or books. March 1-2 are ideal days for your club to help GFWC make a bigger dent in its goal to distribute 1,000 Dr. Seuss books to at-risk children.
Don't forget to add your club's personal touch with the Dr. Seuss labels, filed under "D" for Dr. Seuss on the GFWC Resources page.