The New Jersey State Federation of Women's Clubs is the largest volunteer women's service organization in the state and a member of the General Federation of Women's Clubs. We provide opportunities for education, leadership training, and community service through participation in local clubs, enabling members to make a difference in the lives of others, one project at a time.
The New Jersey State Federation of Women's Clubs is a proud partner with Douglass Residential College at Rutgers University. In addition, Douglass students enjoy the many benefits of partnerships including NJSFWC sponsored scholarship programs
Support New Jersey State Federation of Women's Clubs
Amazon will donate .5% of all sales made through the NJSFWC Amazon Smile account to support NJSFWC. You're going to shop anyway--why not support NJSFWC?
Connect with us via Social Media to see all our latest Updates.
Upcoming Events
November 2020
Thanksgiving is a national holiday in the United States, celebrated on the fourth Thursday of November. It originated as a harvest festival. Thanksgiving has been celebrated nationally on and off since 1789, with a proclamation by George Washington after a request by Congress. Thomas Jefferson chose not to observe the holiday, and its celebration was intermittent until the presidency of Abraham Lincoln, when Thanksgiving became a federal holiday in 1863, during the American Civil War. Source: Wikipedia
Find out more »
December 2020
+ Export Events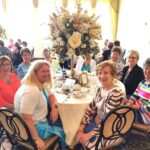 Now is the time to make your reservation! Deadline July 26. SUMMER LUNCHEON To Benefit CASA of New Jersey– Join us for an afternoon of Friendship and Fun,…
We have been a part of the General Federation of Women's Clubs since our founding. With over 80,000 members worldwide the GFWC is one of the worlds largest and oldest nonpartisan, nonprofit, nondenominational, women's volunteer service organizations. It was founded in 1890 and chartered by the 56th Congress in 1901.