Happy 35th, Women's History & Resource Center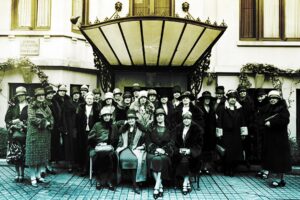 May 1 marked the 35th anniversary of the opening of the Women's History and Resource Center (WHRC). Over the last three and a half decades, the WHRC has filled the vital role of ensuring that the General Federation of Women's Clubs' 129-year history will be told through our collections.
Founded in 1984, the Women's History and Resource Center collects, preserves, interprets, and promotes the history of the GFWC and women volunteers. The WHRC documents the social and political contributions of GFWC clubwomen from 1890 to the present through the GFWC archives, related special collections, and publications.
The GFWC archives were constructed through generous donations of both clubwomen and corporate donors. But did you know that our current archives space has a long history of being used for educational purposes? Affectionately referred to as the "spite room," the area was originally constructed as a way to ensure privacy from neighbor's windows which overlooked the carriageway of 1734 N Street. However, since its construction, the room has been used as a library, a space to display artifacts, to conduct research, and to store historical documents. When the space was officially opened as a part of the Women's History and Resource Center in 1984, it was outfitted with archival shelving and temperature control, as well as space for research and writing.
Our archives and special collections are open to both clubwomen and the public so that GFWC's story can continue to be told. Documents contained within the WHRC have helped to fill in the gaps of local clubs' histories, have provided context to family members whose relatives were clubwomen, and have aided researchers in completing books, dissertations, articles, and exhibits. Our history matters, and it is crucial that we are able to continue sharing it. As we look towards the next 35 years, please consider making a donation to help us further our mission. Thank you for your support and generosity. Cheers to 35 years!