Girl P-O-W-E-R at State Spelling Bee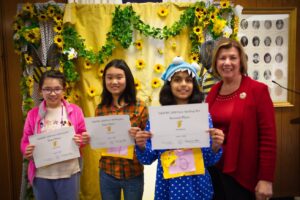 The New Jersey State Federation of Women's Clubs State Spelling Bee competition took place in the historic headquarters building on Douglass/Cook campus of Rutgers University in New Brunswick. Contestants, all students in the 4th and 5th grade from across New Jersey, competed first in spelling bees sponsored by local Women's Clubs and advanced to compete at district-level spelling bees for the chance to participate in the state final competition. After 26 rounds of increasingly challenging words, the winners, all girls, emerged. The tiebreaker word was Louisiana and the winning word was occurrence.
First Place: Allison Guo (Summit Junior Fortnightly Club – Liberty District)
Second Place: Anagha Ramesh (Boys Charity Group, Juniorettes – College District)
Third Place: Charlotte McLaughlin (Junior Womans Club of Westfield – Liberty District)
Judges were Valerie Anderson, Executive Director Associate Alumnae of Douglass College; Shirley Holly, NJSFWC Second Vice President; and Ann Ribinsky Brown, NJSFWC Education Community Service Program Chairman. NJSFWC State President, Mary Wolfe and President-Elect, Jan Hanson greeted participants and their families, NJSFWC State Spelling Bee Chairman, Brandi-Leigh Miller served as the pronouncer. Thank you to District Spelling Bee Chairmen Rita Bouwman (College), Claire Hill (EMD), June Adair (Garden), Nancy Levy (Highlands), Jennifer Tsigaras (Palisades), Judy Bonato (Southern) and to all of the local Clubs and volunteers who organized these contests highlighting NJSFWC's commitment to service in the area of education in our local communities.