GCI Wins Prestigious Award
Girls' Career Institute (GCI) 2019 received the Outstanding Volunteers Community Service Award during the Violence Intervention & Prevention Specialists LLC "You Make The Difference" awards brunch. The award was presented on October 5 at Fiesta Catering in Wood Ridge, NJ.
Mary E. Wolfe, NJSFWC President, gave remarks about the history and significance of GCI, now more than 70 years old. Formerly known as Girls Citizenship Institute, the program began in 1947 and was first held at Montclair State Teachers college with 100 school girls attending. Since 1948, GCI has been held at Douglass College, now Douglass Residential College Campus of Rutgers University.
New Jersey was the first state to develop this type of training program for girls.
Jill McDonald, current GCI Director, accepted the award with special appreciation to Donna Hernandez, a keynote speaker and workshop leader for the past several years.
Girls' Career Institute offers a "mini college experience" at Douglass Residential College on the campus of Rutgers University. Delegates, high school junior girls from across New Jersey, experience a sample of college life by living in a dorm, eating in a cafeteria, and attending lectures and workshops. They learn about career choices from volunteer professional speakers and how to network with other delegates from all over the state of New Jersey. Many establish lasting friendships with one another.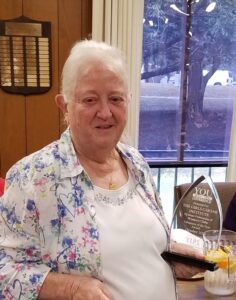 The award reads: YOU MAKE THE DIFFERENCE, presented to The Girls' Career Institute, NJ State Federation of Women's Clubs, Volunteers of the Year Award, October 2019, V.I.P.S. Violence Intervention and Prevention Specialists.