Fellowship Recipients Named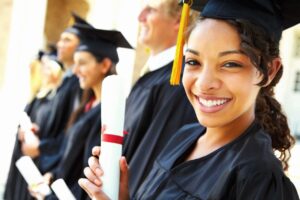 NJSFWC President Mary Wolfe made the following announcement today:
Congratulations to the newest recipients of alumnae fellowships funded by the New Jersey State Federation of Women's Clubs and presented by the Associate Alumnae of Douglass College. Club donations made to the annual NJSFWC Continuing Funds play a major role in making these fellowships possible.
NJSFWC Natural and Applied Science Fellowship
Santhoshi Kotrike '16 of Monroe Township, New Jersey, is currently enrolled in the Rowan School of Osteopathic Medicine. Before enrolling at Rowan, she earned a Master's degree in biomedical sciences at Rutgers. Santhoshi is described by her recommenders as "one of the most engaged students that I have had the privilege to work with during 18 years" and as "always bringing her A game". She is involved in numerous community health activities and volunteer service projects.
NJSFWC Federation Fellowship
Mona Moshet '19 of Oradell, New Jersey, has been admitted to Cooper Medical School of Rowan University starting in August, 2020. Mona is a member of Rutgers' Matthew Leydt Society which is reserved for the top 2% of each graduating class and she received numerous undergraduate awards. Mona aspires to be a pediatrician.
NJSFWC Cecilia Gaines Holland Fund
Nina Narang '13 of Lawrenceville, New Jersey, is seeking a Master's in Social Work at Rutgers University. Nina has maintained a 4.0 GPA to-date in her graduate work. She is described by her recommenders as an "outstanding student and role-model to her peers". She aspires to become a licensed clinical social worker, to teach and practice privately, as well. She is currently a social work intern with LifeTies, Inc., of Pennington, New Jersey. Nina volunteered with the National Alliance on Mental Illness (NAMI) in Lawrenceville for thirteen months during which she connected callers to the NAMI Mercer County HelpLine with county, state, or national mental health resources while providing compassionate guidance and excellent service.
NJSFWC Journalism Fellowship
Samantha Snyder '15 of Audubon, New Jersey, graduated summa cum laude and is a member of Rutgers' Matthew Leydt Society which is reserved for the top 2% of each graduating class. She is currently enrolled in the Rutgers University School of Communication and Information where she is seeking a Master's of Communication and Media and specializing in Digital Media and Public Relations. Prior to beginning this program, she was employed as a digital media consultant for the past four years. In the future, she hopes to promote brand identity in positive and creative ways. She is described by one of her recommenders as "the first person I'd consider to be part of my global team."
NJSFWC Political Science Fellowship
Antoinette Gingerelli '17 of Long Branch, New Jersey, will be seeking a Master's degree in public policy. She has been accepted to both Duke University and Georgetown University. Antoinette aspires to represent New Jersey in Congress. She is currently employed as Chief of Staff for NJ Senator Vin Gopal. Prior to becoming Chief of Staff for Senator Gopal, she served as his Deputy Chief of Staff. Antoinette has also served as Deputy Director of RepresentWomen. As an undergraduate, she was inducted into Rutgers' Cap and Skull Honor Society; she is also a member of Phi Beta Kappa.
NJSFWC International Exchange Fellowship
Janina Pescinski '11 currently resides in London, England where she is attending Queen Mary University of London (QMUL) and seeking a PhD in Migration Studies. Her doctoral research topic is "Performing Citizenship by Assisting Migrants". She received her Master's in Human Rights and Humanitarian Action from Sciences Po School of International Affairs in Paris in 2014. While in Paris, Janina served as a research assistant at Amnesty International. She has also served as a research fellow for the United Nations University Institute on Globalization, Culture and Mobility in Barcelona, Spain. Janina is described by one of her recommenders as "the best undergraduate student I have had the pleasure of teaching over the past 20 years" and by another as "one of the rare students who makes the bridge between book learning and life."
NJSFWC Fine Arts Fellowship
Bethany Shenise '13 of Somerville, Massachusetts, has been accepted to the Master's of Fine Arts program in fiction at the University of Massachusetts for the fall semester of 2020. Only five students are accepted into this program each year. After graduation from Douglass in 2013, Bethany spent a year as a Community Health Volunteer with the Peace Corps in Ethiopia. Since returning to the US, she has taken several creative writing courses at Boston University while working in Boston. Bethany's work has been published in CALYX.