Enjoy the Winter Holidays Safely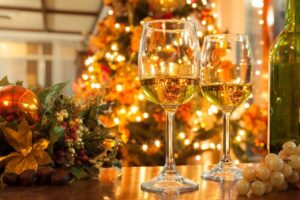 by Nancy Greenberg, GFWC Civic Engagement and Outreach Community Service Program  Chairman 
Winter holidays such as Christmas and Hanukkah should be times of joy. Families travel to gather together. Festive meals are happily shared over long conversations. Candles are lit to symbolize the warmth of home and family and the meaning of the holiday. Unfortunately, these lights and decorations can also increase the risk of fire in the home, according to the American Red Cross, National Fire Protection Association, and U.S. Consumer Product Safety Commission.
I clearly recall a tragic event in high school, when a boy who sat near me in homeroom lost his sister to carbon monoxide poisoning. His sister and her boyfriend had stopped during their drive home from a school dance. The car remained idling for heat, but the exhaust pipe was inadvertently backed into the snow. The two high school seniors died from the buildup of carbon monoxide. It was a devastating loss for our small school.
Be extra cautious and safe in the coming weeks. Know the risks, as well as the ways to be prepared for fire and carbon monoxide safety.
Fire Risk Facts
Nearly 47,000 fires occur during the winter holidays, taking more than 500 lives.
One of every 22 home fires started by Christmas trees lights result in death.
More than half of the at-home fires in December are started by candles. Christmas Day, New Year's Day, and New Year's Eve are the top three days for candle fires.
A working smoke alarm reduces the chances of dying in a fire by nearly half.
Prepare for Fire Safety 
Place Christmas trees, candles, and holiday decorations at least three feet away from heat sources such as fireplaces, portable heaters, heat vents, radiators, and candles.
If you purchase a real tree, look for fresh, green needles that aren't easily broken. Keep trees moist in the home.
Never use lit candles to decorate a tree.
Read manufacturer's instructions for the number of light strands to connect. Don't overload electrical outlets. Inspect holiday lights annually for frayed wires, bare spots, and broken or cracked sockets.
Every night, designate one person to walk around your home to make sure that all candles are properly extinguished, fireplace embers are cool, and stove burners and Christmas tree and holiday lights are off.
Install a smoke alarm near the kitchen, on each level of your home, near sleeping areas, and inside and outside bedrooms if you sleep with doors closed. Use the test button each month. Replace batteries once a year.
Carbon Monoxide Risk Facts 
Carbon monoxide is a colorless toxic gas which is impossible to see, taste, or smell. It is produced with the incomplete burning of common fuels such as wood, coal, charcoal, natural gas, propane, and heating oil.
Each year, more than 480 people die from carbon monoxide poisoning. Fuel-burning appliances in the home such as furnaces, ranges, water heaters, and room heaters are responsible for at least 200 of those deaths. Outdoor appliances used indoors also account for many deaths.
Prepare for Carbon Monoxide Safety
Install a carbon monoxide alarm in the hallway of your house near all sleeping areas. Avoid corners where air does not circulate. Many new homes have a combination smoke alarm/carbon monoxide detector. Both are essential.
Follow the manufacturer's instructions to test a carbon monoxide detector every month. Make sure it is installed according to the manufacturer's directions and building codes.
Avoid using gas appliances to heat your home.
Never use charcoal grills or fuel-burning heaters, stoves, or generators indoors.
Know the symptoms of carbon monoxide poisoning: headache, dizziness, weakness, nausea, vomiting, sleepiness, and confusion.