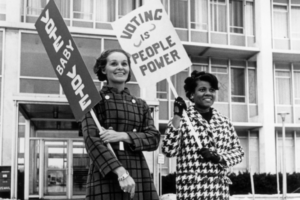 The League of Women Voters was born in 1920 out of the Suffragist's movement to secure the right to vote for women.  Established six months before the 19th Amendment was ratified as a "mighty political experiment" designed to help 20 million women carry out their new responsibilities as voters."  For 100 years, they have been a nonpartisan, activist, grassroots organization that believes voters should play a critical role in democracy.  Just as the women of the NJSFWC in 1919 supported women's right to vote, we should continue that legacy supporting voting rights.  Consider contacting your local League to see what your club members can do to support their efforts.  Go to https://www.lwvnj.org/ to find contact information for your local chapter.
Looking for information about candidates? Want to learn more about voting?  The League of Women Voters of New Jersey uses Vote411.org during election seasons to ask candidates important policy questions.  Click on the Vote411 tool on the website.   More information will be provided after the Democratic and Republican Conventions.
Just a reminder that as a 501(c)3 organization we cannot support a specific candidate, but we can support issues that a majority of our members have voted to support.  At the NJSFWC level these are our Resolutions.  For example, if Candidate X wants to put up a traffic light at a dangerous intersection the club can support the traffic light, but not the candidate.  We can invite local politicians to our events as long as they do not campaign.  Candidate X can say that they support the traffic light, but cannot ask us to vote for them.  We can also sponsor a debate between candidates as long as all candidates are invited.
This pertains to your club, but as an individual you may run for office, work on a campaign, support a candidate.  You just cannot do it in the name of your club.  Of course, we can promote voting.
Club and Member Highlights
We are looking for club members and clubs to highlight in eConnection.  Do you have an extraordinary club member or is your club working on an extraordinary project?   Send an approximately 150-word essay on your club or club member and then look for it in an upcoming eConnection.
Congratulations Joyce Dreger and Thelma Comparato from the Woman's Club of North Brunswick for their 53 years of federated membership.
Operation Chillout
If you need a speaker from Operation Chillout, the contact person has changed.  Please contact Ray Chimileski, 609-303-5030.  If you are cancelling your meeting or changing to a virtual meeting, don't forget to call Ray.
Thank you to everyone who donated to the Operation Chillout Summer Registry.  Thanks to your support they reached their goal and will be able to help over 1000 homeless vets throughout the Summer.  We will also be helping with their Winter deliveries with a special request.  Our goal is to donate 1,000 new, hooded, dark-colored sweatshirts that zip-up.  They are worn outside so they should be a medium to heavier weight.  We will have sizes at a later date, but there will be more of a need for larger sizes if you want to start shopping.  We will not be using their registry so if you want to order them on-line, you can have them sent to NJSFWC Headquarters, 55 Labor Center Way, New Brunswick, NJ 08901.
Contact us:
(732) 249-5474 | suggestions@njsfwc.org | njsfwc@njsfwc.org