eConnection 6/23: Douglass Developmental Disability Center & More!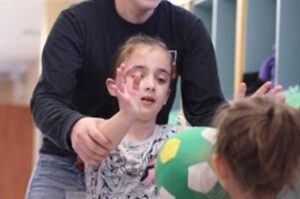 by Jan W. Hanson, President
Douglass Developmental Disability Center
The Douglass Development Disability Center will be celebrating its 50-year anniversary this Fall. The Center was established to provide special education for autistic children. In 1978 the school was housed in a trailer, and a new building was to be constructed on campus. NJSFWC President Marijane Singer (1978-1980) selected the school as the Special State Project. Over $126,000 was raised by Federation members for the school. The building is across from our Federation Headquarters and we are looking forward to renewing our friendship with the school.
Highlighted Projects
Each week in the eConnection we will highlight projects selected for the GFWC reports. These Environment projects can, also, be found on the NJSFWC website.
GFWC Long Valley Juniorettes – Koala Hospital
Members created and sold glass bead bracelets to raise money for Australia's Port Macquarie Koala Hospital. This donation helped injured Koala's recover from their burns and injuries due to the devastating wildfires faced by Australia.
GFWC Woman's Club of Runnemede – Rabies Clinic
This club worked together with the Camden County Health Department and the Borough of Runnemede to host a free rabies clinic where Dr. Chiristine Caserda, of Blackwood Animal Hospital vaccinated 74 dogs and cats. The club collected donations to benefit the Homeward Bound Pet Adoption Center and gave out 100 bookmarkers to pet owners made by a member of their club.
The Hadden Fortnightly EMD – Upcycled Pet Toys
Members created pet toys from upcycled T-shirts donating 50 toys for animals waiting for their forever homes at the Animal Adoption Center in Berlin, NJ.
Deadlines
July 2nd – NJSFWC Summer Conference Hotel Registration under the group rate.
July 16th – NJSFWC Summer Conference Registration ($10 additional late fee).