eConnection 6/16: Douglass Alumnae Association & More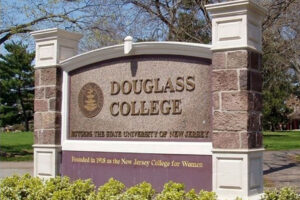 by Jan W. Hanson, NJSFWC President
Alumnae Association of Douglass College
In 1918, thanks to the New Jersey State Federation of Women's Clubs, Douglass College opened its doors to fifty-four young women. Four years later, these women formed the Alumnae Association of Douglass College (AADC). Coming up to 100 years the AADC is still going strong. Over the next year we will be keeping you informed of events in leading up to their 100-year anniversary. We are looking forward to sharing this extraordinary achievement with Douglass Alumnae.
Highlighted Projects
Each week in the eConnection we will highlight projects selected for the GFWC reports. Top projects can also be found on the NJSFWC website under MATERIALS, listed in each CSP.
1. Boys Charity Group Juniorettes created a tutoring program for local students in grades 2 – 4 to help them in the age of virtual school. The boys encouraged the younger kids to learn and were excited for the opportunity to connect, mentor and build relationships. The initiative inspired some of the members to consider teaching as a future profession.
2. The Haddon Fortnightly EMD provided a virtual civics lesson to local second-graders via zoom after sharing the book Grace for President by Kelly DiPuccio. Students made campaign signs and held a mock election to teach them about the election process and the basics of the US system of government. The sequel book, Grace Goes to Washington was also donated to further the lesson with the teacher.
3. Members of the Pines Lake Woman's Club collectively attended 196 hours by Zoom or in person attending programs sponsored by their local library and held a weekly discussion group to share what they learned. Topics included Decluttering, Mars Exploration, Island of Sea Women, Korean Women Divers, the Suffragettes, Global Warming, the Environment, World Travel, Current Events, and more.
Items for Sale
Do you need a Special State Project project pin, a Past President pin, an Honor Roll charm or maybe a new calendar? Check out page 23-24 of the NJSFWC Yearbook for a list of items and prices. Contact or District Vice President to see if they have what you need. If not, contact Headquarters to place an order or use the online form on the njsfwc.org website under MATERIALS> FORMS & MANUALS (2nd item on the page, right after ALMANACS & BULLETINS).
Summer Conference
If you are planning on eating out while attending the Summer Conference, reservations are highly recommended.
Deadlines
June 15th-Deadline for GFWC early bird registration
July 2nd-NJSFWC Summer Conference Hotel Registration under the group rate.
July 16th-NJSFWC Summer Conference Registration ($10 additional late fee).
August 4th-Deadline for GFWC Convention
September 1st-Middle Atlantic Region Conference registration deadline