Luncheon Postponed, District Councils via Zoom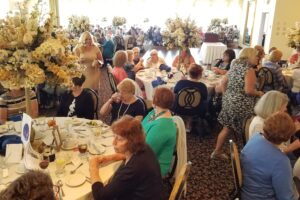 AUTUMN LUNCHEON & BASKET RAFFLE
Due to Covid-19 (I long for the day when those words are no longer in my vocabulary) the Summer/Fall Luncheon has been postponed to May 25, 2021.
DISTRICT COUNCILS
As you have probably heard we will be holding our District Councils via Zoom.
About a week before your Council your Club President should receive, via email, an invitation from the DVP to join the meeting.  You need this information in order to attend.
The Club President should share this link with her members since all members are invited to attend.  If you do not receive an invitation, please contact your DVP.
The meeting will open approximately 10-15 minutes before it starts in order to let everyone into the "room" and get everyone settled.  There is a limit of 100 attendees.
"Let Us Forget Not To Be Kind"
As Clubwomen we are very familiar with those words and encourage our members to put these words into practice.  But does this sentiment just apply to our club members or to the world at large?  If you examine what we do, we help many people without considering their race.  As an organization we have supported first responders, food banks, veterans, children, students, homeless, underserved communities, etc. and we don't look at skin color, but at need.
It is impossible to not have an opinion about what has happened over the last week and many organizations have come out with statements condemning racism.  The NJSFWC, however, cannot speak on an issue without having passed a Resolution supporting or not supporting that issue.  I have reviewed our Resolutions and we do not have any that address racism.  But that does not mean that as individuals and clubs you cannot educate yourselves on the issues, listen to all sides and keep an open mind.  Since the founding of our organization, we have taken that approach to adopt issues and advocate for what we believe is right.  And when forming opinions, I hope you remember our promise to each other:   "Let us forget not to be kind."
Jan W. Hanson, NJSFWC President
GFWC ELECTION RESULTS
Thanks to our own Joanne Mangels, who helped to set up an election via Google, the 2020-2022 GFWC Officers are:
Marian St. Clair by virtue of her present office will become the GFWC International President 2020–2022 and Kristina Higbee by virtue of her present office will become the GFWC Director of Junior Clubs 2020–2022.
They will be joined by the following GFWC Officers:
• President-elect, Debra Strahanoski
• First Vice President, Suellen Brazil
• Second Vice President, Wendy Carriker
• Secretary, Jolie Frankfurth
• Treasurer, Mary Beth Williams
• Director-elect of Junior Clubs, Katie Moydell.
We send our congratulations.