eConnection 4/7: GFWC Day, Convention, Deadlines, Firsts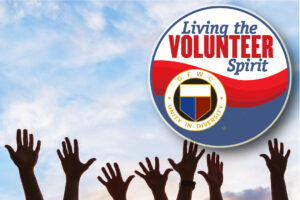 by Jan W. Hanson, NJSFWC President
General Federation of Women's Clubs (GFWC) Day!
Past GFWC President Mary Ellen Brock will speak about her experiences as GFWC President at a Zoom workshop on Monday, April 19, 2021 at 7:00 p.m. She will enlighten us on what it was like to live at the GFWC Headquarters building in Washington, D.C. and the challenges she faced. There will be an opportunity to ask questions so come celebrate GFWC (April 24th) learning first hand about GFWC. Please register with NJSFWC 2nd Vice President, Barbara McCloskey, mccloskey@njsfwc.org.
Annual Convention April 26 – April 27
Convention is just around the corner so please make sure your registration is in the mail by April 9th. You will receive the Zoom information the week of April 19th. Participate in the workshops where you can learn about the Palisades, saving marine animals, and making a rain garden. Find out who won State awards including the Cecilia Gaines Holland Award and Women of Achievement. Help to determine which Resolutions and Bylaws we will pass. Hear about the things we accomplished this year in the President's report and hear from GFWC 2nd Vice President, Wendy Carriker.
DEADLINES:
APRIL 9 – TO REGISTER FOR VIRTUAL CONVENTION
APRIL 30 – HONOR ROLL, ORDER OF THE LILY, AND WOMEN OF ACHIEVEMENT PATRONS
MAY 1 – BLUE SHEETS (General Clubs), GREEN (EMDs), YELLOW (Juniorette) DUE TO HEADQUARTERS
First Women
In 1976, Patricia Fontana was the first teacher who requested a maternity leave at her school district in Chester, NJ. After it being approved, she was not able to refer to it as maternity, because back then, a woman's place was not in a teaching position while pregnant. Two months later, laws were being challenged and women were given up to one year to stay at home without benefits and to use 30 days of sick time, before or after the birth.
The next big move was 9 months later, when she went back to her teaching job, she needed to take off for a sick child at home. She was granted a personal day with pay for a sick child and from that day forward Chester teachers were able to take personal days for sick children. That is still happening today in that district, sick days do not have to be used.
She always felt successful in her teaching career and felt she was able to juggle family life at home, with 2 children and a third on the way! In those days, most moms were at home. Her husband, at the time, was ill, and she needed to be a working mom.
When New Jersey first implemented the Teacher Recognition Program in 1986, she was selected to be the chosen teacher from our district. She was very humbled to receive this award from the Governor at that time and the President of Princeton University. She was given a large monetary gift to purchase something educational for her school.
She always thinks about that and is very grateful that the laws had changed that allowed her to be a working mother with 3 children for 35 years! It was during the 70's, that laws for women were changing! Thanks for this opportunity to rejoice in that era!!