Success for Survivors, Book Discussion, Video Etiquette, Youth Contest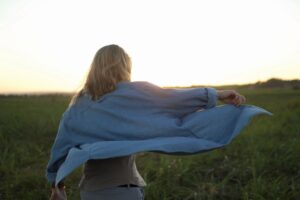 GFWC Signature Project: Domestic Violence Awareness and Prevention
It's October 1 and the call for GFWC's 2021 Success for Survivors Scholarship applications is now open. The scholarship provides survivors of intimate partner violence with financial support as they seek higher education, made possible through generous donations from clubwomen, clubs, State Federations, and other groups. Download the application and send it to your local Shelter.
To recognize Domestic Violence Awareness Month, consider dedicating your next club fundraiser to the GFWC Signature Program Fund this October! NJSFWC is collecting your donations in order to show our support to the GFWC Success for Survivors Scholarship.  You can send a check to NJSFWC Headquarters, earmarked Domestic Violence Scholarship or include on the Continuing Fund due April 1st.   It is through your support that GFWC can make the recipients' dreams a reality. As Cindy W., a scholarship awardee and recent college graduate said: "I am thrilled to have this opportunity to better myself and become self-sufficient with a new career. This is not just for me, but for all who I come in contact with as a nurse."
NJSFWC Book Discussion
On November 4 at 7:00 pm, NJSFWC ESO Chairman Pat Trainor will host an online book discussion via Zoom. The first book discussed will be American Dirt by Jeanine Cummins (one of Oprah's Book Club picks). Discussions about new books will take place every other month moving forward.
To join the ESO Honorary Literary Society or to suggest a book for future NJSFWC book discussions, contact ESO Chairman Pat Trainor by email at pattee217@aol.com.
Video Conference Etiquette (Excerpted)
by Warren Farmer, Zoom user and Director of Conferences and Events at Behringer Harvard
Many of us are not quite used to video conferencing. We don't know how to act, where to look, what to wear, and so forth. That's why we're so excited that we put together a helpful guide to video conference etiquette. Here's everything you need to know:
DURING YOUR MEETING
Stabilize your camera.  Holding it in your lap can result in shaking of your image and could be distracting to  others.
Think about your actions on camera.
Remember that other participants can see you. Everyone is watching as you take a big, wide-mouth yawn, stretch, or wander around the room. These exaggerated movements can be distracting to participants and disruptive to the instructor. Relative stillness and attentiveness is helpful to all.
Please DO NOT turn on virtual backgrounds.  They can result in distortion, or even disappearance,  of your image.
Turn your video off if you need to change location, eat a snack, make adjustments or attend to other business.
Consider your online meeting in the same way you think of an in-person meeting—don't do anything you wouldn't do in a live meeting.
Stay muted your microphone when necessary.
Zoom has a "Mute Microphone" option that cuts down on ambient feedback for the audience. When there is a lot of back-and-forth discussion you should, of course, unmute yourself but you should mute yourself when listening to the instructor.
BEFORE YOUR MEETING
Practice speaking to the camera and not the screen.
Our tendency is to look at the person on the screen, but you should look at the camera when you speak so the audience feels like you're talking directly to them.
Think about your background. Try to provide a nice, plain background. If your treadmill is in your office and you use it more as a place to hang laundry, that's not really the best visual for your audience. You can't control everything in a mobile environment, but you should give some thought to background prior to your meeting.
Control Video Quality.
Try to set up your device so that you are eye level with the screen. Adjust your lighting. Don't sit directly in front or beside a bright light source, or else all the audience sees is a bright light and a shadowy figure. Experiment with moving lamps and your camera until you can see your brightly-lit face on the screen. (You do not need to be in a Zoom meeting to do this. Use the camera function on your computer or laptop.)
Control Audio Quality.
Try to participate in quiet, indoor locations to control ambient noise. Notify family and housemates that you will be in a meeting and for how long. Invest in a quality webcam and speaker and microphone headset. These provide better video and audio than your computer's built-in system.
Print out your Login Information/Meeting ID and keep handy.
This will be helpful if you lose your connection or need to log off and back on for some reason. It will limit the amount of time you need to be away from the meeting.
Optimize Zoom.
Sharing. Generally DO NOT select "Share Your Desktop" (unless you want every pop-up email and private message on display for your audience!). Instead, open up any relevant documents before the call and share only those during the meeting. Note that when you share, Zoom prioritizes the shared item to the bandwidth. This can reduce the other video feeds' quality, so don't share longer than necessary.
Bandwidth and Signal.
If you are wireless, try to remain close to the wireless router and consider installing a signal booster in areas of low signal strength. When you have the option, choose wired (instead of wireless) for video conferencing. If you can afford it, increase your bandwidth.
Youth Creative Writing and Poetry Contest
Listed below are rules for the Youth Writing Contest:
All entries must be typed, double-spaced, printed on one side only, with maximum margins of one inch on all four sides on 8.5 x 11 inch paper.
Entries must be written during the contest year, January 1st – December 31st.
Entries must have the following on the top right hand corner of each page:
A. Author's name, email address, mailing address, and phone number.
B. Name of GFWC club and State Federation submitting author's work.
C. Category
D. Title of work
E. Grade level category
Category 1: Grades K, 1, and 2
Category 2, Grades 3, 4, and 5
Category 3, Grades 6, 7, and 8
Category 4, Grades 9, 10, 11 and 12
Authors must be amateurs, earnings from writings may not exceed $500 annually.
Entries may not have been published prior to the competition and must be original works by the author.
A signed GFWC Creative Art Waiver must be included with each submission.
Clubs must submit a $1 fee, check made payable to NJSFWC for each entry.
One entry per person per category.
Short stories are limited to 2,000 words.
Poetry entries can be any style, with a minimum length of eight lines and a maximum of 50 lines.
The Six Traits of Writing will be used in the judging of the Youth Writing Contest.
Two copies of each entry must be sent to the Literature Writing Chairman, Joanne DeBenedictis, 105 19th Ave., Belmar, NJ 07719, no later than February 1, 2021. Do not send mail "Registered" or "Certified."
A club may submit only one entry per category.
All entries are judged on content, organization and form.
First place winners in each category will be sent for judging in the GFWC Youth Short Story and Poetry contest by the State Chairman. A release form must accompany the winning entry and the release form must be signed by the author's parent and guardian.
Manuscripts will not be returned. Authors should retain a copy.
Winners will be notified by the submitting club.
Jan W. Hanson, NJSFWC President