eConnection 10/20: State Fall Conference Report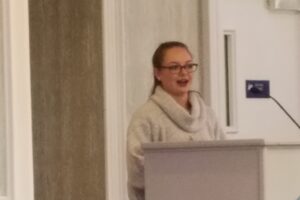 NJSFWC Fall Conference
Thank you everyone who attended the NJFSWC Fall Conference, received their flu shot, participated in Perrott Labs, shopped at the vendors, wrote letters and enjoyed the companionship of other club women. Congratulations to Patricia Mignella and her committee for providing us with a special day.
Kyllian Coraggio spoke on Covenant House, the recipient of our day of service. They help 18-21 year olds who are living on the street. We will be providing gift cards for them to distribute and making cards to put them in. For more information on Covenant House or to contact Kyllian or Jennifer Williams go to their website, covenanthousenj.org.  Jennifer Williams is the contact for the southern part of the State.
Jenna Mellor, NJ Harm Reduction Coalition, spoke on how drug addiction should be considered a public health issue, not a legal issue. Access to sterile syringes is an evidence-based public health service that reduces HIV and hepatitis C infection rates by as much as 50 percent. Syringe service programs offer a place to connect with other resources like housing, health care, and drug treatment. And they're often one of the only places where people who use drugs can find respite and connection. For more information, contact Jenna at jenna@njharmreduction.org.
Our keynote speaker was Eric Nelsen from the Palisades Interstate Park and his assistant Francesca Costa. He spoke on the history of the Blackledge-Kearney House and how the NJSFWC has been involved in its history. The Kearney House is one of the historic sites we support on our Continuing Fund form. To visit the house or learn more about it go to njpalisades.org/Kearney.
I apologize that we were not able to have the chocolate mousse. I was, also, looking forward to it, but was able to snag a pretty good brownie.
Membership Increases
The following clubs had the largest increases in membership by district:
| | | |
| --- | --- | --- |
| Shore | Woman's Club of Matawan | +1 |
| | Woman's Club of Spring Lake | +1 |
| Southern | Woman's Civic Club of Hammonton | +1 |
| Highlands | Peapack-Gladstone Women's Club | +2 |
| | Vernon Township Woman's Club | +2 |
| College | Princeton Area Junior Woman's Club | +4 |
| | | |
| --- | --- | --- |
| Palisades | Woman's Club of Rutherford | +4 |
| Liberty | Woman's Club of Verona | +4 |
| Juniorettes | GFWC Long Valley Juniorettes | +6 |
| Ramapo | Woman's Club of Franklin Lakes | +12 |
| | Pompton Lakes Woman's CLUB | +12 |
The club with the Highest Net Gain in the State goes to
| | | |
| --- | --- | --- |
| Garden | Woman's Club of Wenonah | +39 |
Membership Grants
Congratulations to the following clubs for receiving the $100 membership grants offered by NJSFWC.
Holland Township Woman's Club (College District)
The Woman's Club of Berkeley Heights (Liberty District)
The Woman's Club of Ramsey (Ramapo District)
Stafford Township Woman's Club (Shore District)
Colony Club of Ocean City (Southern District)
Country Shores Woman's Club (Southern District)
Report Writing
The report writing materials have been sent to club Presidents. Please review the materials and share them with your members. All the materials are also available on the website njsfwc.org and you do not have to wait until January 1 to start completing them. Contact Second Vice President Barbara McCloskey mccloskey@njsfwc.org to register or with any questions. There will be two workshops on Tuesday, November 23, 2021 at 10 a.m. at Headquarters and 7:00 p.m. on Zoom. More information is in the November ALMANAC.
Registration Deadlines
November 4 – Special State Project Project Southern State Fundraiser Deadline
November 10 –GFWC Bus Trip
November 15 –Women of Achievement Nominee forms due