Boatsie Retired, but Stockings Still Needed!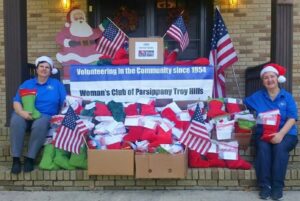 After almost 10 years of supporting Boatsie's Boxes with holiday stockings for the troops, we recently heard that Boatsie is retiring. But don't worry, we've found a new way for our members to send holiday gifts to the troops.
"Operation Yellow Ribbon" is an official 501(c)(3) non-profit registered with the state of NJ. The organization consists of all volunteers, and they show support for our United States Military Forces serving in the Middle East, including Iraq, Afghanistan and those supporting Operation Enduring Freedom and Operation Inherent Resolve.
One of Operation Yellow Ribbon's major focuses is organizing and collecting donated U.S. Troop supplies and goodies to send to our brave Heroes deployed in harm's way in the Middle East.
Our clubs always do an outstanding job by filling holiday stockings with items and love!
You can begin this project at any time, and stockings are delivered in the Fall. Watch the ALMANAC for instructions where to deliver. Stockings should be gender neutral. The cost to fill the stocking should be about $20-$25 to completely fill it to the top.
Items to fill the stockings are: "Beef Jerky," Slim Jims, Christmas candy, playing cards, nuts, individually wrapped candy, cookies, dried fruit, trail mix, Life Savers, chewing gum, wet wipes, crew socks, travel dental kits, healthy snacks, small shaving cream, razors, lip balm, iTunes cards, DVDs, batteries and CDs.
If you or your club prefers to give a money donation instead of making the Christmas Stockings, any monetary gift would be deeply appreciated. Please make your check payable to NJSFWC, earmark it "Operation Christmas Stocking," and send it to Headquarters.
Watch our Public Issues news for more information on how we will partner with Operation Yellow Ribbon to send holiday gifts to our troop.
Click here to read the news article about Boatsie's retirement.
Featured image: Kathy Roussel and Bernadette Cicchino, Co-Chairmen of the Woman's Club of Parsippany-Troy Hills Holiday Stocking Project, with the 100 filled holiday stockings which will be given to military men and women serving overseas. Photo by Bernadette Cicchino, 2017.