Turning Point Memorial Dedication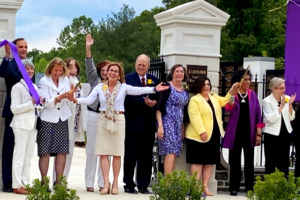 On May 16, more than a decade of fundraising came to fruition with a dedication event to open the Turning Point Suffragist Memorial. Located in Occoquan Regional Park, Fairfax County, Virginia, the Memorial was built to honor the work of millions of suffragists who fought for the right for women to vote.
On behalf of GFWC International President Marian St.Clair, GFWC President-elect Deb Strahanoski presented at the dedication program along with leaders from the National League of Women Voters and the Women's Suffrage Centennial Commission. Among these inspirational women speakers were Turning Point Suffragist Memorial Association Executive Director Patricia Wirth, Senior Vice President and Director of the David M. Rubenstein Center Colleen Shogan, and others.
Following the dedication program, Deb Strahanoski participated in the official ribbon cutting ceremony for the Memorial; GFWC International President Marian St.Clair was unable to attend the ceremony due to a prior commitment at a GFWC State Convention.
In addition to shining a light on the brave women who were imprisoned at Occoquan, Virginia, during their fight to win voting rights for women, the Memorial aims to provide awareness and education about how their courage, methods, and commitment led to the passing of the 19th Amendment to the U.S. Constitution. To accomplish this goal, the Memorial includes 19 education stations that recount the 72-year history of the suffrage movement with a focus on those imprisoned on the historic premises.
Visitors can also stop at a meditation area, which provides the opportunity to reflect on the Memorial's message of empowerment.
Members who missed the remote event can still view the dedication ceremony on Facebook or YouTube. GFWC would like to thank all of its members who donated to make the Memorial's opening possible.