Support Women in the Military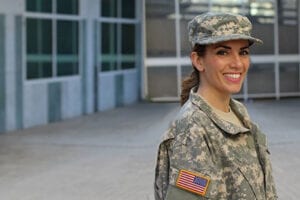 One of the Seven Grand Initiatives is to complete 1,000 projects for women in the military by the end of the 2018-2020 Administration. At 799 projects to date, we're so close! Labor Day is this week, and it's a fitting time to make plans to celebrate the women who have some of the most important jobs in our country.
Create care packages for military women. Fill them with personal care items, such as deodorant, hair-bands and bobby pins, and feminine hygiene products. You can also include snacks, books, and a handwritten note to personalize your gift. Find an organization that sends care packages to military women and brighten a servicewoman's day.
Create Mommy Bags for military moms-to-be. Fill them with items such as diapers, wipes, lotion, lip balm, and small Kleenex packages. This is a great way to show military mothers that you care!
Plan your projects now for fall and acknowledge the women whose work involves defending our country.
PLEASE NOTE that our OPERATION CHRISTMAS STOCKING requires gender neutral stockings. Thanks!