Support the Equal Rights Amendment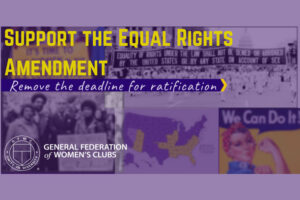 UPDATE 02/13/2020: The House has passed the resolution! Great news! Now it's time to turn our attention to the Senate to encourage action by Congress to complete the process.
HJ Res 79, Congresswoman Jackie Speier's bill to remove the time limit on ERA ratification, was taken up the week of February 10th and passed.
In 2020 GFWC will celebrate 130 years of service to communities across the nation. Our Nation will also celebrate 100 years since the passage of the nineteenth amendment granting women the right to vote. Help honor the legacy of this organization and women's suffrage by urging your elected officials to recognize and guarantee equality for women through their support of the Equal Rights Amendment (ERA). The ERA ensures that rights are not denied based on an individual's gender.
In January of 2020, Virginia became the 38th state to ratify the amendment. Now that the Equal Rights Amendment has officially reached the minimum of 38 states required for ratification to the U.S. Constitution, Congress must act to ensure that the U.S. Constitution will be amended to guarantee equality for all U.S. citizens.