Summer Luncheon Sold Out!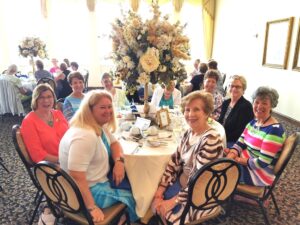 Now is the time to make your reservation! Deadline July 26.
SUMMER LUNCHEON
To Benefit CASA of New Jersey–
Join us for an afternoon of Friendship and Fun,
Thursday, August 8, 2019
11:30 AM – 3:30 PM
Lobster Shanty, Point Pleasant Beach, NJ.
Luncheon:
Fresh Fruit Cocktail, Salad, Choice of Entrée, Dessert, Coffee/Tea
Cost: $40.00.
Themed Baskets, 50-25-25 and Silent Auction.
Event is open to the public, so please bring your friends!
Raffle prizes needed…. Baskets, Services, Vacation Homes.
Contact Lynn Webb (webb@njsfwc.org).
Deadline for Prizes:  July 19, 2019     Deadline for Reservations:  July 26, 2019
CLICK HERE FOR A PRINTABLE PDF REGISTRATION FORM
Featured image from last year's luncheon. It was a wonderful event!