NJSFWC 38th Annual Women of Achievement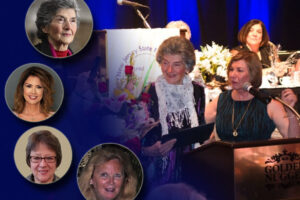 The Women of Achievement awards were created to recognize outstanding women in various fields throughout New Jersey. They are sponsored by the New Jersey State Federation of Women's Club (NJSFWC) of GFWC and Douglass Residential College of Rutgers, The State University, Winners were honored at an awards ceremony at the 125th NJSFWC Annual Convention.
To be eligible for this honor, each nominee must be a woman who has gained visibility in New Jersey for her contributions, including professional/personal accomplishments, activities and achievements. The following are the recipients for 2019:
Rosemarie L. D'Alessandro, the Founder and President of the Joan Angela D'Alessandro Foundation.
Tina B. Gordon, a retired Executive Director of Corporate Communications for Johnson & Johnson and Volunteer Vice President of Marketing & Communications Associate Alumnae of Douglass College.
Marci Hopkins, the creator and host of a weekly morning talk show "Wake Up with Marci", which airs on You Too America (Cable TV).
Evelyn Spath-Mercado, the President of HK International, a corporation involving growing, manufacturing and distribution of various agricultural grain products.
To read the winners' complete bios, click here. Women of Achievement 2019