From GFWC: New March of Dimes Projects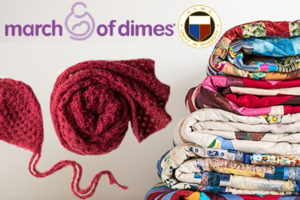 GFWC's partnership with March of Dimes makes it easy for clubwomen to support the Juniors' Special Program: Advocates for Children.
March of Dimes hosts baby showers for military families. Help make their experience one to remember by crafting!
Baby Hat
Do you like to knit? Make your knitting philanthropic! Use March of Dimes' pattern to create hats that will keep babies warm.
Baby Blanket
Whether you knit, crochet, sew, quilt, or tie fleece blankets, your one of a kind blanket will be a source of comfort to a baby.
But you don't have to be crafty to make a difference!
Neonatal Intensive Care Unit Mom Care Packages
Show a mom you care! Assemble toiletries in gallon size storage bags so moms with newborns getting intensive medical attention will have one less thing to worry about.
Check out the March of Dimes toolkit under "M" on the GFWC Resources page for details and instructions, or click here to download it. Once you finish a project,  email Meredith Repik, GFWC's representative from March of Dimes, or call her at 843-614-3355. She'll tell you where to ship them!