May Is National Foster Care Month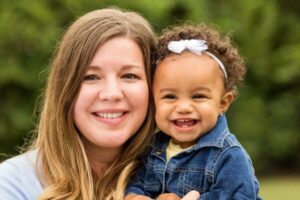 We all have a responsibility as individuals, neighbors, community members, and citizens to help create, healthy, nurturing and safe experiences for children. We can each play a part in enhancing the lives of children and youth in foster care.
An increasing number of children are entering foster care every year due to a complex mix of factors that may include the parent's use of opioids, family financial hardship, mental health disorders, or domestic violence. Most of the time, it doesn't mean the children are unloved. It means their families need help. Foster care plays a pivotal role in helping put families back together. It can never and should never replace families.
We want to ensure that children and families suffer the least amount of trauma possible through the foster care experience and that children return to parents who are well-prepared to welcome them home.
May is National Foster Care Month. It is a time to reflect on the foster caregivers and child welfare professionals who are dedicated to keep children safe from abuse and neglect.
Our communities need to hear our proclamations to protect our children from abuse and recognize there are organizations, like CASA of NJ, to be their voice. May is time to ask your mayor to sign a proclamation for National Foster Care Month. See below for a sample proclamation that you can personalize for your community.
National Foster Care Month Proclamations
Other Ways Your Club Can Help
From Special State Project Chairman Lynn Webb: Did you know foster children do not own a towel to take a bath or go to camp? For the June Council, districts will collect beach towels for the children. Beach towels have fun designs and may put a smile on their faces.
Another project: Members in the Palisades District are crocheting purses for a child to carry their crayons or necessities with them. Let Lynn know what your district is making so she can share it with others.
A fundraiser for CASA of NJ will be held on Thursday, August 8, 2019 at the Lobster Shanty in Point Pleasant Beach, NJ and this Chairman looks forward to seeing you and your friends for a lovely lunch and fun. The form to sign up is included in the April ALMANAC flyers. There will be a Tricky Tray at the event and your donation of baskets or handmade quilts, crocheted or knitted items to support CASA of NJ will be greatly appreciated.
Thank you in advance for your generosity.