Leave Your Mark: Plant a Tree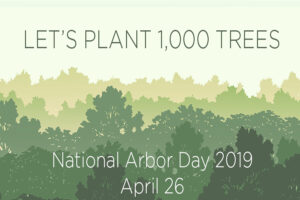 "I think that I shall never see… A poem lovely as a tree." –Joyce Kilmer
One of International President Mary Ellen Brock's Seven Grand Initiatives is to plant 1,000 trees for National Arbor Day on April 26. With GFWC's Federation Day on April 24, it's the perfect opportunity to bring the celebrations together. What better way to celebrate Federation Day than to plant trees in GFWC's honor! They will symbolize that GFWC's roots grow deep and will live on for years to come.
Planting trees is a simple way to make a positive impact on the environment. From improving air quality to creating shade that reduces the energy used by air conditioners, a single tree can make a difference. Imagine the difference that could happen if every clubwoman planted a tree!
Help GFWC reach its goal of planting one thousand trees and leave your mark this National Arbor Day. Whether it's a sapling or a seedling, each tree will carry on GFWC's legacy of conservation efforts.
Planning Ahead for Arbor Day
For the Arbor Day Grand Initiative, we're encouraging you to help us plant 1,000 trees to do our part in improving the environment. But there's a lot to figure out before you get started; be prepared this Arbor Day and consider these steps:
Identify the site and get written permission to plant there if it's not your property. Prepare a proposal for the landowner, county/parish/city administrator, school principal, or park ranger depending on where you're planting.
Check municipal and local laws, including ordinances related to trees for what kind are allowed to be planted, what size, etc.
Consult the utility company to make sure the trees won't disturb overhead and underground lines.
If you're planning to plant a tree near a street, check that it won't impact visibility and therefore safety.
Commit to caring for the tree after planting and provide routine maintenance.
Keep these steps in mind to have a successful Arbor Day experience. Use our press release to spread the word and encourage your community to plant even more trees! Click here for Press Release Template.