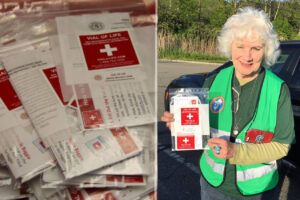 The Community Improvement Program is GFWC's longest standing project and it benefits clubs by increasing membership opportunities, developing leadership skills, and creating public awareness of club activities and GFWC. Introduced in 1949 as the "Build a Better Community Contest," this program has provided GFWC clubs with a platform for developing and implementing projects that meet the varying and changing needs of their communities.
Designed to meet the needs of individual communities, the GFWC Community Improvement Program Award also provides a platform for enhancing relationships between GFWC clubs and their communities. Club projects that help make your community a better place to live, by revitalizing distressed communities and improving living conditions, are "community improvement" projects and are eligible for national recognition and reward. Sometimes the smallest things that we can do for our neighborhoods can have the biggest impact.
Ideas
It is nearly impossible to provide recommendations for project ideas because the project should be
tailored to your community's specific and unique needs.
Every club is capable of creating a Community Improvement Project.
Almost any project can be turned into a Community Improvement Project that addresses a specific, unique need within the community.
Large or small projects qualify.
Consider the following:
Implement partnerships to address your community's need, assist with leadership development and raise your club's and GFWC's profile with the community, such as:

GFWC clubs
GFWC partner organizations
Professional or other membership organizations
Government entities
Other nonprofit organizations

Establish your Community Improvement project as an ongoing community effort that lasts as long as the community need remains.
Reference the Advancement Guides (Communications and Public Relations, Fundraising, Leadership, Legislation/Public Policy, Membership, and the Women's History and Resource Center) in the GFWC Club Manual, available online at gfwc.org.
Time Period
The contest runs from January 1, 2018 – December 31, 2019. Club entries covering the two-year period must be submitted to the NJSFWC State Community Improvement Program Award Chairman by March 1, 2020. Use the Official GFWC Entry Form/Cover Sheet found under the GFWC Club Manual –
GFWC Awards, Contests, and Grants, "Community Improvement Program Award" Section.
Project hours, monies and services should be reported on the GFWC/NJSFWC yearly report forms under the appropriate Community Service Program (i.e. work performed at schools and libraries would be reported under the Education Report.)
For more information:
GFWC 2018-20 Community Improvement Project
NJSFWC CIP Supplement 2018-2020
If you're still not quite sure what to do, contact NJSFWC Community Improvement Program Chairman Rachael Salandra, email salandra@njsfwc.org
Featured Photo: The NJSFWC Sparta Woman's Club is distributing Vials of Life as its Community Improvement Project.