Holiday Bus Trip to GFWC Headquarters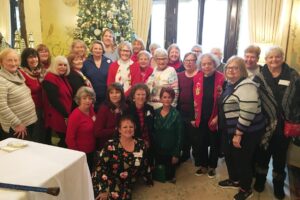 On December 8, GFWC Headquarters was transformed for a festive day of cheer as GFWC International President Marian St.Clair welcomed clubwomen to the 2021 GFWC Holiday Open House. While joyful harp music wafted through the rooms, members shared stories and celebrated the giving season. With the help of the President's Assistants, the two event receptions were filled with holiday magic. To help make this year's event special and celebrate the theme, Good Tidings of Comfort and Joy, State Federations sent decorated ornaments to adorn the two beautiful trees.
Twenty-seven NJSFWC members enjoyed the day on a bus trip led by Annette Bortone. We played games, ate lots of good food, and toured GFWC Headquarters.
View this year's Holiday Open House photo album and download photos of your visit to Headquarters.
Click on the arrow in the lower right corner of each photo to download individual images. To download an entire folder, click the "Download All" arrow in the lower right corner of the photo at the top of the screen. You will be prompted to enter your email address, which you will need to verify by clicking on a link when receiving an email. After doing so, you will receive a second email with an option to download the entire photo album.
Enjoy the photos and we hope to see you all again next year!