Handmade Quilt Raffle to Benefit Operation Chillout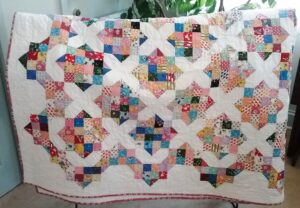 We will be raffling off a handmade quilt to benefit Special State Project, Operation Chillout. The winner will be pulled at Convention 2022.
Measurements are 96″ W by 106″ L. The quilt was donated by Jean Ficca from the Community Club of Cape May, Southern District. Jean pieced the quilt, and Joanne Enos quilted it. The design is from a 1930 collection.
Tickets are $10 each or three for $25.
Tickets will be available for purchase at District Council meetings in September & January, and at State Fall Conference. For more information contact SSP Chair Patricia Dahl, dahl@njsfwc.org.