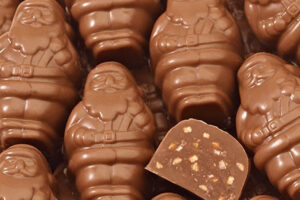 As mentioned in the October ALMANAC, NJSFWC is selling Gertrude Hawk Chocolates for the Holiday season.
What a great way to treat yourself and/or buy some holiday gifts while supporting NJSFWC. There are 40 available
products.
Smidgen fans rejoice! This year's brochure offers 9 different varieties of smidgens and many other popular items
such as milk and dark chocolate covered cherries. The Kids Corner section has a Holiday Goodie Bag that would be
great as a teacher gift.
All orders will be shipped directly to your residence. Tax and shipping charges will be applied. If you live close to
another member/s, you may want to place one order and split the shipping cost. *Sale ends December 13th.
Orders start shipping the week of November 15th. So, if you would like to purchase candy for Thanksgiving, you
will be able to do so.
Click on Place Fundraising Order.
Choose an Organization.
Type in 114501
CHOOSE NJSFWC, NEW BRUNSWICK, NJ.
Choose a SELLER and type in CHRIS.
Select CHRIS BURLEW
Select GET STARTED
This should take you to the product page where you can select your items. Any questions call Darlene at 1-800-
706-6275, Ext. 359 or Chris Burlew, 732-885-1466.
Gertrude Hawk Candy will be available for purchase for the Holidays. Information will be in next month's
ALMANAC.