From GFWC: Take Legislative Action!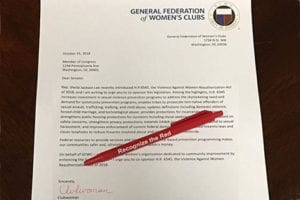 Sign in Red!
As you may have read, GFWC is launching a legislative action plan called "Recognize the Red". As part of this plan, GFWC is selecting two pieces of legislation to follow through the legislative process, advocating for these bills at every step of the process. The Region votes have been counted and the two bills that GFWC will be working on to become laws are Miranda's Law and the 3D Printed Gun Safety Act.
Miranda's Law, H.R. 6518
Introduced in both the House and Senate, "Miranda's Law" aims to keep unsafe school bus drivers off the road. This legislation would require real-time alerts for every school district across the country and trigger driver infractions to a database monitored by the federal Department of Transportation. Under current federal regulations, employers of school bus drivers are required to check their employees' driving history records annually. If a driver fails to self-report a DUI, reckless driving, or a license suspension, it could be up to 364 days before a school district or motor carrier obtains that information.
What Do We Have to Do?
Join GFWC in supporting Miranda's Law and ensuring that those behind the wheel of school buses are safe drivers.
Contact your U.S. Representative to request that the bill be voted out of the House Transportation and Infrastructure Committee, and state that you want it posted for a vote on the House floor.
3D Printed Gun Safety Act, H.R. 6649; S3304
This law would prohibit the publication of 3D printer plans for the printing of firearms. Because 3D printing allows individuals to make their own firearms out of plastic, they may be able to evade detection by metal detectors at security checkpoints, increasing the risk that a firearm will be used to commit violence on an airplane or other area where people congregate.
What Do We Have to Do?
Contact your U.S. Representative and U.S. Senators; tell them you want the bills voted out of their respective Judiciary Committees and you want them posted for a vote on the floor of the House/Senate. View the Legislative Action Center alert.