eConnection 4/14: Workshops, Tribute Book, Legacy Program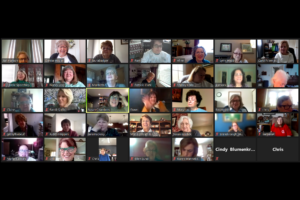 by Jan Hanson, NJSFWC President
Workshops
NJSFWC Zoom and hybrid workshops
There are three workshops coming up.
April 19, 2021, 7:00 p.m.-GFWC Past President, Mary Ellen Brock will speak about the General Federation of Women's Clubs and her experiences as GFWC President. Email Barbara McCloskey to register, mccloskey@njsfwc.org. Zoom workshop.
May 3, 2021, 10:00 a.m.-There will be a workshop on understanding Medicare. Email Jan Hanson, hanson@njsfwc.org. Zoom workshop.
May 19, 2021, 10: 30 a.m. -Treasurer's Workshop- The workshop will include:

The responsibilities of the Treasurer
Dates they should be aware of
Explanations of- Charity Registration Continuing Funds
Blue Sheets Filing
Raffle Licenses and follow-up documentation
501 C (3) and Filing 990s
This will be a Zoom and in-person meeting. Presidents and Treasurers are encouraged to attend, but all are welcome. Register by emailing NJSFWC Treasurer Linda Babeuf, babeuf@njsfwc.org.
Tribute Book
It is not to late to send in an ad to the NJSFWC Tribute Book which will be distributed at the Summer Conference.
For more information check out the December ALMANAC. This has been a difficult year, but this is an opportunity to congratulate your club or honor your members.
Deadlines
April-30-Honor Roll, Order of the Lily and Women of Achievement Patrons
May-1-Blue (General Clubs), Green (EMD's) and Yellow (Juniorette Clubs) Sheets due to Headquarters
Legacy Program
The Legacy of NJSFWC women will live on!
Legacy Planned Giving is a new program for our State Federation. Legacy as defined by Webster's Ninth New Collegiate Dictionary is a gift by will of money or other personal property.
Federated Clubwomen, Family and Friends, who provide a Legacy of Planned Giving in their estate planning can designate that the funds be given in their name as a Fellowship or Scholarship in an area of interest. Or, the Clubwoman may designate other areas for her Legacy giving, such as the Headquarters Wish List, or the Special State Project.
If you look at the Continuing Funds in the yearbook, beginning on Page 193, you will find numerous fellowships/scholarships in many fields offered to college students and women returning to college to continue their education.
A letter to Clubwomen explaining in further detail the Legacy Planned Giving, together with the Pledge form indicating provisions have been made in estate planning, can be found in the MATERIALS section of the NJSFWC website, under Legacy Committee. Also, on the website, you can read the Legacy introduction presented at the 2020 Fall Conference.
First Women
The following women were highlighted in March for their achievements. They are members of the following Clubs:
Patricia Fontana, Dorothy Prisco-Long Valley Woman's Club
Susan Koye-Penns-Woman's Club of Penns Grove/Carney's Point
Carol Parks-Woman's Club of Vineland
Nancy Pugliese, Patricia Q. Sheehan-Woman's Club of Spring Lake
Lynn Webb-Woman's Club of Washington
Jane Christy-Millville Woman's Club
Jennie McQuade-Woman's Club of Wenonah
Suggestions
If you have a suggestion, send to suggestions@njsfwc.org