eConnection 12/1: Open House, Bus Trip, Deadlines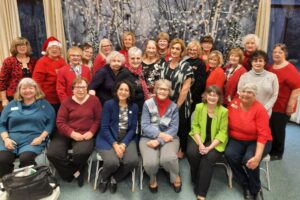 by Jan W. Hanson, NJSFWC President
NJSFWC Open House
Thank you to everyone who attended our Open House. Our Board members worked hard decorating and baking to ensure a wonderful afternoon. Thanks to Joyce Dreger for entertaining us with her piano playing and Arts Performing Chairman, Rosemarie Saviello who stumped us with her trivia game. Many pictures were taken in front of the seasonal backdrop and I hope they soon are shared on club Facebook pages. We had people setting up, cleaning up, washing dishes and giving tours. With many first timers, it was an opportunity to share our Headquarters. Of course, though there were many helpers most of the credit goes to Headquarters Chairman Karen Manneback for organizing, planning, arranging and decorating to create a perfect day.
Light Up Headquarters
Thank you to everyone who contributed to "Lighting Up Headquarters". The lights are up and there will be a picture in next week's eConnection.
Bus trip to GFWC
Sponsored by NJSFWC on Wednesday, December 8th, 2021 there will be a bus trip to GFWC International Headquarters, Washington, DC. The cost is $75 per person (if 50 people attend) Bus trip with refreshments is covered in the price. Payment is due by November 10th to: Annette Bortone 226 Kingsland Avenue, Lyndhurst, NJ 07071, 201-873-1913. The deadline line has passed, but there are a few seats left. Call Annette if you are interested in attending. Make checks payable to NJSFWC. Remember your pick-up location: 8:30 a.m. Lyndhurst Shop Rite, 9:30 a.m. NJSFWC Headquarters, 11:00 a.m. Pennsville Super 8 Motel. YOU MUST HAVE PROOF OF VACCINATION FOR COVID-19.
Deadlines
Due now-GFWC Bus Trip (A few seats are left)
December 13th-Gertrude Hawks Fundraiser
HAPPY HANUKKUH!