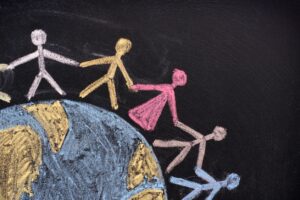 To commemorate the Global 16 Days Campaign Against Gender-Based Violence, we will be collaborating with Rutgers University's Center for Women's Global Leadership and Douglass Residential College to hold a panel discussion on November 21st, 2022 at 7:00 p.m. at the Kathleen Ludwig Center at Douglass Residential College, Rutgers University. All students and NJSFWC members are welcome to participate. Among the panelists will be representatives from several organizations including, Women Aware located in New Brunswick, Safe and Sound in Somerset County, and Rutgers Office for Violence Prevention and Victim Assistance. They will discuss problems of gender- based violence as well as, the Global 16 days Campaign's 2022 theme, "Femicide".
Please go to 16dayscampaign.org website to read their advocacy guides on Femicide and Domestic Violence. On this day, we will also be collecting gift cards for Uber or Shoprite to be distributed to Women Aware and Safe and Sound. Also, Students and members of NJSFWC will submit questions for discussion prior to the event.
Your club can participate in several ways, by submitting a question to this Chairman at pogosaew@njsfwc.org, attend the evening in person, or by donating a gift cards.
---
REMINDER:
At convention 2024 when the numbers are revealed for dollars donated for Special State Project, Emmanuel Cancer Foundation, only the dollars donated through Headquarters will be included in the total. Even if you want to give $25 or $50 to an ECF speaker, please send it to Headquarters.  Every dollar makes a difference and we want to make an impact for the families ECF serves.  Thank you!
---
Florida Relief
Anyone interested in donating to Florida in the wake of the devastation that Hurricane Ian left behind, should send checks to NJSFWC Headquarters, 55 Labor Center Way, New Brunswick, NJ  08901.  We will put all of the monies together and send one check to Florida.  Donations should be at NJSFWC Headquarters by November 25th.  Thank you for your willingness to help our federation sisters in Florida.
---
GCI's 75th Anniversary – Please let Second Vice President, Chris Sienkielewski know if you are interested in being on the committee through email sienkielewski@njsfwc.org or call (908-392-7501).  Many people stopped at the Membership Table to tell her they would like to be on the committee, but did not give their information.  We would like to include as many people as possible.  Please reach out to Chris by November 4th.