Boatsie's Boxes on the Way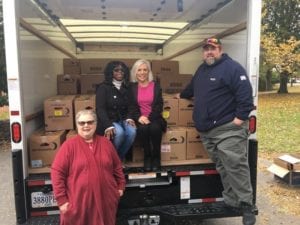 NEW BRUNSWICK – There's no place like home for the holidays. But many overseas military men and women spend the holiday away from home and away from their families.
185 Women's Clubs from the New Jersey State Federation of Women's Clubs are now sending Christmas to them. But first they have to get the stockings to a base in West Virginia.
"I'm looking for a way to get these stockings to West Virginia," said Joyce Fredericks, a member of the Federation. "I said, I'll have my son do it."
Joyce and her son are bringing joy overseas. "It's just a wonderful feeling to be a part of this to help our fighters," said Fredericks.
The New Jersey Federation and several helpers filled over 1700 stockings with gifts for the troops. They included things like DVDs, phone cards, candy, lip balm, socks, and puzzle books.
The volunteers say it will all make a huge difference to the men and women serving our country.
"It's like a motherhood statement," said John Nemitz of the Corvette Club, "helping the troops that are away from home during the holiday season. I mean, how could you not?"
"Especially at Christmas time, you're away from your family," said another volunteer, "especially the ones in the war zone. I think this is going to be a joy for them."
As for Joyce, she wouldn't have it any other way. "It just makes a warm feeling in your heart about it. And it's so ironic, because we're going to be delivering them on the weekend of Veteran's Day."
The filled stockings are part of a program called "Boatsie's Boxes." And now the stockings are on their way.
Alex Butler, News 12 New Jersey