2019 Middle Atlantic Region Meeting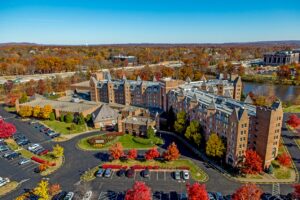 Registration Deadline was September 20.
Volunteers Making a Difference in their Communities
 Welcome to New Jersey!
The GFWC Middle Atlantic Region Annual Meeting and Conference will be held at:
The Sheraton Parsippany Hotel
199 Smith Street
Parsippany, New Jersey
Pre-Conference events: October 10, 2019
Annual Meeting and Conference:  October 11, 2019 to October 13, 2019
CLICK HERE FOR THE 2019 MAR CONFERENCE CALL & registration info (revised).
Click here for 2019 MAR Proposed Standing Rules.
The clubwomen of New Jersey are looking forward to welcoming YOU to the GFWC Middle Atlantic Region Annual Meeting and Conference in Parsippany, New Jersey.  A fun weekend of fellowship and learning about future federation projects and programs is planned for you.  Our special guests include GFWC International President Mary Ellen Brock and GFWC President-elect Marian St.Clair.
Come early on Thursday night, October 10, and join us for dinner at Casa Bella and on Friday, October 11, for an Oktoberfest-themed luncheon cruise on Lake Hopatcong.
The Sheraton is conveniently located near several accessible highways, including interstates 80, 280, and 287; and is located 30 minutes from Newark International Airport and 25 miles from New York City.
The hotel, a smoke-free facility, has recently renovated its guest rooms including a 37-inch flat screen TV, remodeled bathrooms, large work areas with new ergonomic seating, wireless HSIA and new heating and cooling for individual climate control.
Room rate is $132.00 per night plus tax.  Reservations for rooms will be accepted until SEPTEMBER 26, 2019.  To reserve your room, please call the Sheraton at 1-888-627-848 and use the code New Jersey Federation of Women's Clubs. Check in time is 4:00 pm and check-out is 12:00 pm.
Dress code for the weekend:
Business casual for meetings (slacks, skirts, nice top or a dress, no jeans)
After Five (cocktail dress, long dressy skirt and top, dressy pants outfit) for banquets.
We look forward to welcoming you to the 2019 GFWC Middle Atlantic Region Annual Conference and Meeting.
Linda Kreussling, GFWC MAR President
Mary E. Wolfe, GFWC New Jersey State President
Jean Revis, GFWC MAR Conference Chairman