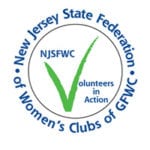 Member of the New Jersey State Federation of Woman's Clubs (NJSFWC) Southern District
---


Member of the General Federation of Woman's Clubs (GFWC)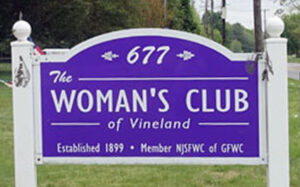 For latest news, click here to visit our Facebook page.
The Woman's Club of Vineland is a civic organization dedicated to the enrichment of the community as well as that of its members. We not only do community service projects but have activities for members such as a book discussion group and craft nights.
Meetings are held at the Woman's Club clubhouse located at 677 S. Main Rd. and Washington Ave., Vineland, on the second Monday of the month at 1 pm or 7 pm.
Come and find out what we are all about. Prospective members are welcome to attend the club's business meetings.
Mailing address is PO Box 61, Vineland, NJ 08362.  The club's telephone number at the clubhouse is 856-696-3139.  Email may be sent to the membership chairman Carol Parks at mathmamacdp@comcast.net.