Greater Pascack Valley Woman's Club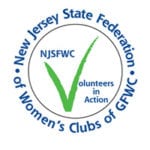 Member of the New Jersey State Federation of Woman's Clubs (NJSFWC) Palisades District
---


Member of the General Federation of Woman's Clubs (GFWC)
PO Box 3, Park Ridge NJ 07656
Serving Our Community One Project at a Time
Our Officers:
Co-Presidents:  Merci Norwood and Linda Romagnano
First Vice President:  Carolyn Delafrange
Co-Second Vice Presidents:  Elaine Mooney and Elaine O'Brien
Secretary:  Geralyn Cargulia
Treasurer:  Mary Lynn Mazzarella
Federation Secretary:  Hilda Woodson
General Membership Meetings
4th Monday of the month
(September to June)
7:30 PM
Refreshments plus Socialization or Informational Program
Business Meeting
Location of Meetings: Park Ridge Community Center, 55 Park Avenue, Park Ridge 07656
History of the Club
Our Club was established and federated in 1990.
A group of women who were interested in intellectual and cultural pursuits joined together to be a force for good in the community and the world around them.
Woman's Club members strive to be involved in a program of concern and philanthropy and to share their knowledge and talents.
Who are our members?
Our members are women of all ages from the Pascack Valley area and surrounding towns, including some who have moved out-of-state. These members have moved from the area but have maintained their membership and involvement.
We are of service to our communities through an organized effort. We also come to meet new friends, have fun, develop new skills and learn more about our towns, and our state and national governments.
Our philanthropic interests include:
Alzheimers Research
Blackledge Kearny House on the Palisades
Boatsies Boxes for Soldiers
Center for Hope and Safety
Family Promise
Federation Special State Project
Heifer International
Hi-Tor Animal Shelter
Holiday Crafts for Seniors
Leukemia Lymphoma
Meals on Wheels
The Atrium Assisted Living Activities
National Alliance on Mental Illness (NAMI)
Paramus Veterans' Home
Tri-Boro Food Pantry
Prevention of Child Abuse
Scholarships for High School Seniors
Special Olympics
State Headquarters Maintenance
Tri-Boro Financial Aid
Departments
Arts Creative
Arts Performing
Conservation
Education
Home Life
International Outreach
Public Issues/ Legislation
Committees
Communications
Club Photographer
Holiday Party and Year-End Social
Hospitality
Mah Jongg
Newsletter
Programs
Scholarships
State Project
Sunshine
Telephone
Website
Yearbook
Frequently Asked Questions
Are we related to other clubs?
YES! Our club's heritage is long and proud, but it is not an isolated one. The GPVWC is a member of the New Jersey State Federation of Women's Clubs (NJFWC), which was organized in 1894. As such, we are part of the largest volunteer women's service organization in New Jersey with approximately 7,000 members. We are one of about 220 clubs in our state and a part of the Palisades District.
On the national level, we are affiliated with the General Federation of Women's Clubs (GFWC) which is headquartered in Washington D.C. GFWC is one of the oldest and largest non-denominational, non-partisan women's volunteer service organizations in the world. Founded in 1890, it has over 100,000 members in more than 3,000 United States clubs.
Worldwide there are an additional 14 countries that are involved with the GFWC. One is never alone when part of this worldwide organization!
How does one become a member?
Contact any member or our Membership Chairperson and arrange to attend a meeting. If you decide to join our organization, you must attend two meetings before you can be initiated as a member. Annual dues will be prorated based on the month you join the club.
Contact our Membership Chair at (201) 573-9132 or cell: (201) 788-5868
Our members' interests are varied and range from fund-raising, arts and crafts, education, scholarship committee, home life, social services, international outreach, public affairs, legislation, conservation and the arts … or anything else one might have an interest in. We have picnics, dinners, theater outings and many other great activities.
Since the GPVWC is a tax-exempt charitable and educational organization, all Club dues and contributions are tax deductible.