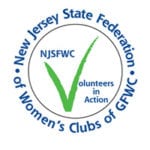 Member of the New Jersey State Federation of Woman's Clubs (NJSFWC) Liberty District
---


Member of the General Federation of Woman's Clubs (GFWC)
The Woman's Club of Berkeley Heights is an organization of volunteers working on projects and programs designed to encourage interest in liberal education, in local, national and world affairs, and in the betterment of our community. Our members volunteer their time and talents to help enhance the lives of others.
General Meeting
3rd Tuesday of the month
September to May at 12:15 p.m
YMCA of Berkeley Heights
550 Springfield Avenue
Berkeley Heights, NJ 07922
We begin our general meetings with social time and refreshments, followed by our business meeting and a program. The programs presented during these meetings include, authors, musical artists, speakers on health issues, the history of our community and state, and others.
Support is given to the NJSFWC Special State Project which currently is Court Appointed Special Advocates for Children, CASA of NJ. We also support the GFWC Signature Project, Domestic Violence.
New members and their ideas are always welcome.
During the year we raise money for:
Scholarships for graduating female senior from Governor Livingston High School
Sponsoring a junior from Governor Livingston High School to attend the Girls' Career Institute at Douglass College in New Brunswick
Berkeley Heights Public Library
Berkeley Heights Rescue Squad
St. Joseph's Social Services in Elizabeth
Our House
Special Projects
Domestic Violence
This is the 5th year our Club is supporting the YWCA "Project Protect" Program of Union County. Cell phones, toiletry items (both large and small) and these much needed supplies - toilet paper, tissues, toilet bowl cleaner, toilet bowl brushes, dish detergent, sponges, scouring powder, brooms, mops, ammonia, clorox, and laundry detergent - are being collected at the Berkeley Heights Public Library.
Club members will also be donating handmade afghans, quilted lap blankets, and Hug-A-Bears.
CASA NJ
We support collection of duffle bags for the children.
Cash donations will be used to purchase gift cards to Walmart, Target, grocery stores, and gas stations as requested for the children helped by CASA NJ.
Committees
Bridge
Home Life Community Service
Mah Jongg
Needles & Hooks
Arts Performing
Arts Creative
Social Activities