Boatsie's Boxes--An annual project since 2011!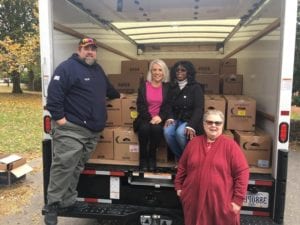 One of our most important projects is filling Holiday Stockings to support our deployed troops during the holiday season. It is better known as "Boatsie's Boxes." This helps to bring a smile to the faces of our troops while they are away from their families.
Our clubs always do an outstanding job by filling these stockings with items and love!
You can begin this project at any time, and stockings are delivered to Headquarters during October. Each stocking should be 13-19" long and filled to the top, with a slip stitch, safety pins or a rubber band to prevent items from falling out during shipping. Please attach an envelope to the top of the stocking with $2.00 to cover the cost of shipping. Also attach to the stocking a personal hand-written note sending holiday wishes.
Stockings should be gender neutral. The cost to fill the stocking should be about $20-$25 to completely fill it to the top.
The items on the Boatsie's Boxes wish list are: "Beef Jerky", chocolates, Slim Jims, Christmas candy, playing cards, nuts, individually wrapped candy, cookies, dried fruit, trail mix, Life Savers, chewing gum, wet wipes, crew socks, travel dental kits, healthy snacks, small shaving cream, razors, lip balm, iTunes cards, DVDs, batteries and CDs.
We will have dates for clubs to bring filled stockings to the NJSFWC Headquarters parking lot. There will be a POD (storage type container) which holds all the filled Holiday Stockings prior to being delivered to West Virginia to Boatsie.
If you or your club prefers to give a money donation instead of making the Christmas Stockings, any monetary gift would be deeply appreciated. Please make your check payable to NJSFWC and earmark it "Boatsie's Boxes" and send check to Headquarters prior to October 25th.
Thank you in advance for your generosity and kindness!
Boatsies Boxes Flyer with Instructions and Delivery Dates-- 2018 Complete! 2019 to be posted spring/summer.